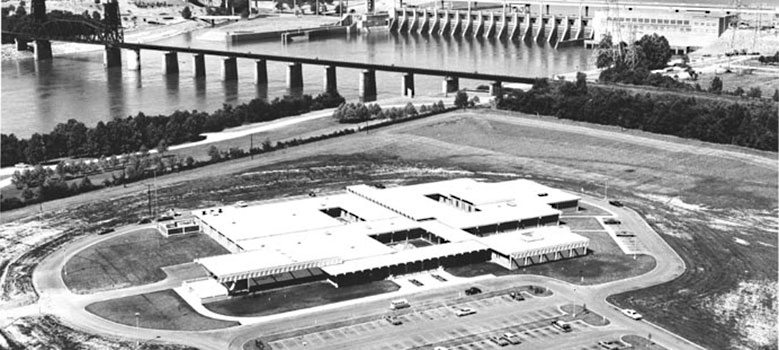 History of Chattanooga State
Strong response to the region's business, industrial and the professional needs, leadership in technology and solid preparation for advanced study characterize the history of Chattanooga State Community College.  From its opening in downtown Chattanooga in September 1965, the institution has been focused on supplying the technical workforce of the region, particularly in engineering technology and computer science.  
Early on, as Chattanooga State Technical Institute, the state's first such school, applied associate's degrees and certificates were the primary goals of students.  In 1973, the Institute became Chattanooga State Technical Community College by act of the General Assembly of the State of Tennessee.  The legislature defined the College in the act as providing "comprehensive one and two-year occupational, college parallel, continuing education, and community service programs."  In 1981, Chattanooga State's mission expanded further to include vocational education when the legislature merged the State Area Vocational Technical School in Chattanooga with the college.
Health science education was added when the College absorbed the Baroness School of Nursing of Erlanger Hospital in the mid 1980's.  Since then, nineteen programs in nursing and allied health have been added.  They have become a critical resource for the area's largest industry, health care.
Since the late 1980's the college has positioned satellite operations in three surrounding counties as well as at two sites in Hamilton County.  The College also expanded its support of local industry through extensive training activities and technology transfer.  From the mid-90's, Chattanooga State has served as the largest, most comprehensive training provider in the Tennessee Valley.
2009 was a landmark year for Chattanooga State.  That year the College was selected to operate the Volkswagen Academy, the training center for the Volkswagen's North American assembly plant in North Chattanooga.  In July, the College was re-named Chattanooga State Community College by the General Assembly; and in the fall enrollment broke 11,500. 
The College now boasts the largest postsecondary enrollment in the Tri-State area and the largest training function in East Tennessee.  Chattanooga State is the most comprehensive community college in Tennessee — in curriculum and in service to the community.